Cape Cod Beaches - About The Cape & Islands Beaches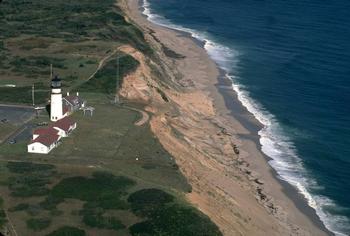 The Beaches of Cape Cod are located in three distinct places, Cape Cod Bay, the Atlantic Ocean and Nantucket Sound. Each has its own flavor and attractions.

Cape Cod Bay is the large body of water that sits in the curled arm of the Cape. The bay is shallow, the tides gradual, and the water is warmer than the ocean. There are wonderful sea creatures to explore, including razor clams, crabs, small fish, and other tidal pool inhabitants. The damp sand is perfect for building sand castles. These are perfect beaches for families with smaller children. The sun sets to the west, and you have the chance to see absolutely glorious sunsets, one of the few places on the East Coast to offer such views. Some of the beaches are Breakwater and Linnell's in Brewster, Campground, First Encounter, and Cooks Brook in Eastham, Skaket in Orleans, and Mayo in Wellfleet.

The Atlantic Ocean is on the outer arm of Cape Cod and is the open ocean. This is part of the National Seashore. The water is colder, the surf rolls in and the ocean is majestic. There are miles of white sandy beaches and sand dunes the perfect spot for sunning, swimming, and surfing. Small children need to be closely tended in the surf, as it can be rough for the non-swimmer. The Cape Cod National Seashore preserves and maintains the beaches, dunes, wild animals, and plant life along the Atlantic shore. Along the 27 miles on the outer coast of the Cape there are lighthouses, wonderful trails for the hikers, and lovely protected beaches. You can walk for miles along the sand, enjoying the occasional seal or whale, without seeing any development. The Atlantic Beaches include Nauset, Nauset Light, Marconi, and Cahoon Hollow, along with many others.

Nantucket Sound is the south side of Cape Cod. This is another type of ocean beach, but with quieter and warmer waters. The islands of Martha Vineyard and Nantucket are directly across the waters and block the open ocean from the beaches in that area. These beaches include Cockle Cove, Hardings, and Bank Street.