Neighborhoods
Because we live on the beautiful island of Nantucket year-round, all of us at William Raveis have our own favorite places to enjoy and things to do on Nantucket. Please take a moment to read through the ideas we have compiled as opportunities that await you. Whether you are planning a vacation during the summer months, taking advantage of off-season quiet, or contemplating a home purchase, we can help you find the perfect summer home or summer cottage in which to create your own family memories. We love hearing from you and assisting you to experience all the very best stay on Nantucket.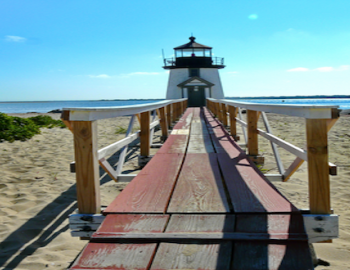 Brant Point
Enjoy the tranquil beauty of Nantucket's welcoming harbor in a classically idyllic setting where "summering" had its beginnings. Here, calm waters warmed by the Gulf Stream lap near your back door, and while the bustle of town is only a short walk away, you may just as well be miles away. This is summer living at its splendid best, as generations of families will attest. The Nantucket Yacht Club began on Brant Point piers just over a hundred years ago, and classic and modern sailboats still ply these waters from spring through fall. Watch July Fourth fireworks from your back porch, hammock, or roof walk. Photogenic Brant Point Lighthouse, the first built on the island, was originally commissioned by President Washington - it's comforting foghorn tucks you to sleep on misty summer nights.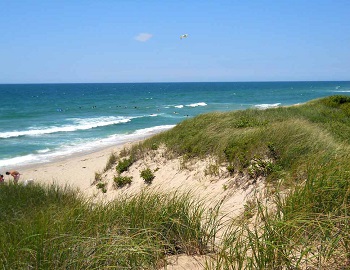 Cisco
The island's newest bike path beckons as you leisurely glide past Bartlett's Ocean View Farm and Cisco Brewers to the wide-open expanses of Cisco and the South Shore. Here, views of the surf meet the uninterrupted sky, while the island's uniquely beautiful sandplain grasslands surround you. The sought-after spot for surfing, sunbathing, or surfcasting, Cisco is also a desired address for coastal Nantucket living. No need to seek out parking places in town for groceries, as East Coast Seafood at 167 Hummock Pond Road and Bartlett's Farm offer all you need.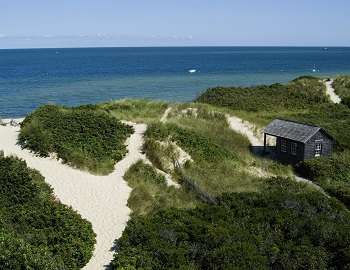 Cliff
It's no surprise that the original settlers chose this location as the first Nantucket town. The vistas go on forever from your vantage point high above Nantucket Sound, where the warm bathing beaches of the north shore lie waiting at your feet. To the west, Dionis gives way to Madaket and eventually to Tuckernuck. To the immediate east, the harbor's jetties lead towards town. And there, far to the north, Great Point Light stands steadfast on the horizon. Its prime location makes the Cliff readily accessible to all areas of the island, with convenient bike path connections to either Madaket or Town. The ambience is heightened by unspoiled conservation lands, including the former Tupancy Links golf course, with its sweeping views of the Sound. The Cliff is where you watch your ship come in.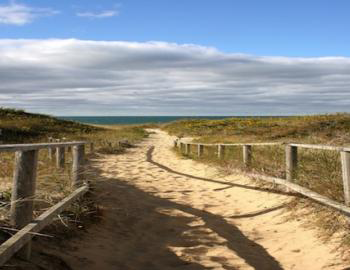 Dionis
Named for Dionis Coffin, wife of original proprietor Tristram Coffin, Dionis is nestled away from more populated areas, offering relaxed beach living at its finest, with beautiful vistas framed by rolling dunes. The calm waters of Nantucket Sound make this the perfect place to spend the day at the beach. You may also explore the landscape that features sheltered stands of pine and natural grasslands. Acres of accessible conservation lands are nearby, including the Conservation Foundation's Sanford Farm and the Linda Loring Nature Foundation, an 86-acre wildlife preserve. Once you're in Dionis you may feel little need to venture elsewhere, yet town, Eel Point, and Madaket are only a short drive away.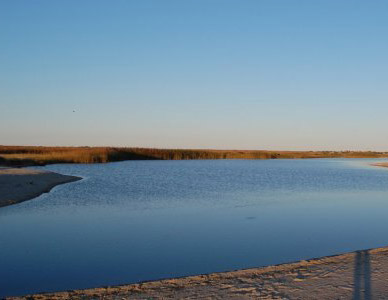 Hummock Pond
Perfect for kayaking, canoeing, or birdwatching, Hummock Pond's pristine pleasures invite you to stray along its reedy banks. Vast acres of conservation lands border much of its shoreline, making this a restorative locale of recreation or relaxation. Migrating birds arrive with the seasons, as do the tranquil and ever-changing hues of the surrounding flora and fauna. Nearby, Cisco Beach provides surf-fueled diversion, while Cisco Brewers and Bartlett's Ocean View Farm offer other delights. The newly-completed bicycle path gives access to all points of the island.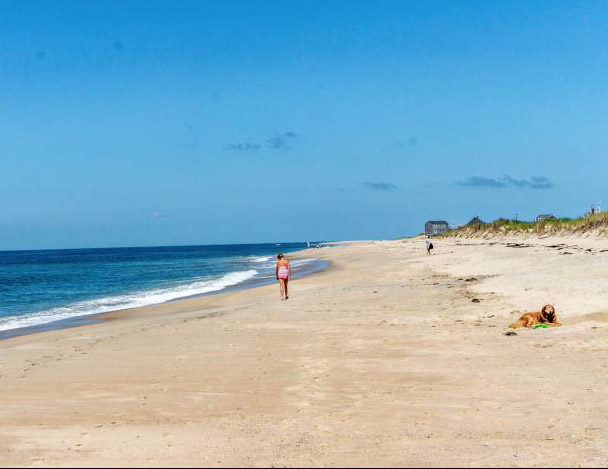 Madaket
Located at the far western tip of the island, Madaket is best known for its stunning sunsets. A small market & Millie's Restaurant offer residents a local alternative to traveling to town for groceries. Travelling to and from town and the airport is easy by way of Nantucket's roads, bike path network, & "The Wave" shuttle system. The area is surrounded by Madaket Harbor & Nantucket's Western bay. The beaches have strong surf, cross-currents, and a lifeguard, allowing for beach and ocean activities. Madaket features everything Nantucket is famous for: boating, fishing, scalloping, jogging and walking. Its natural beauty is complemented by the quaint feel of summer cottages.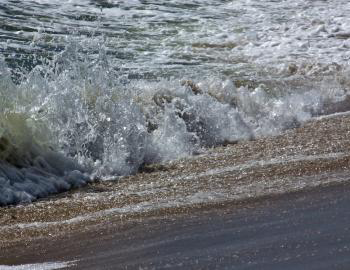 Madequecham
Crowned by its resplendent valley, Madequecham's Brigadoon-like quality promises enchantment on every visit. This is where you leave it all behind, as you gaze beyond the heath and thistle to wide stretches of sand, and beyond that to benignly rolling surf. Magical sunrises and sunsets are matched for wonderment by the compelling night sky and its countless constellations (and perhaps a shooting star or two). There's no other experience quite like waking to a new Madequecham morning and all its unspoiled beauty. The perfect place to recharge, and reconnect, with the island's world-class natural charms.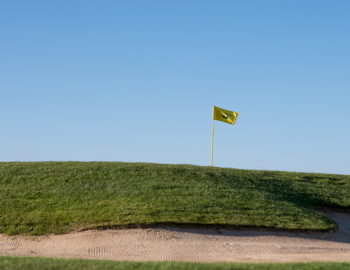 Miacomet
Imagine living near the shores of a tranquil pond, one that prompts reflection or relaxed boating in the summer, yet one that tempts you to skate along its glassy surface, seemingly forever, in the stark beauty of winter. Close by, beach grasses bow gently, leading you to explore the graceful, stately dunes that front one of the island's finest beaches. Here, overlooking ocean and pond, is island nirvana, as the setting sun creates a sky resplendent and awash in color. Just beyond the pond is the public 18-hole Miacomet Golf Course, one of the island's finest, complete with full-service restaurant. Conveniently located, yet pastoral and serene, Miacomet is an island treasure.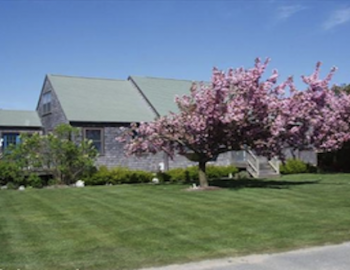 Mid-Island
Originally called "New Town" by the early settlers, mid-island is one of the fastest growing areas of the island and a very convenient location for shopping, banking, or dining. Equidistant from Town and Surfside, Mid-Island is also in great proximity to nearby Miacomet and the state forest. Whatever your interests, or needs, nothing is out of the way in Mid-Island, including bicycle paths to Surfside, 'Sconset, the airport, or Polpis, and convenient access to the Wave, the island's expedient shuttle service. A tremendous year-round address, Mid-Island is a protected haven with hidden charms waiting to be uncovered.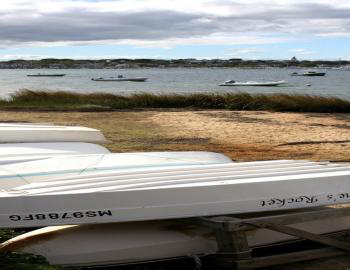 Monomoy
This quiet hamlet, just a mile from town, rests in one of the most scenic areas of the island. Spacious, sweeping lawns and wooded glens give the area a rural feel, while the nearby marshy creeks are a haven for wildlife. There is no better view of town than from Monomoy, a view that includes the pristine sweep of Coatue, the comforting swirl of boat traffic, and beautiful summer sunsets. While there is a distinct heritage and feel of "summering," Monomoy is an ideal getaway in any season. This is also an excellent spot for shellfishing, and a prime location to moor your boat in the waters outside your door.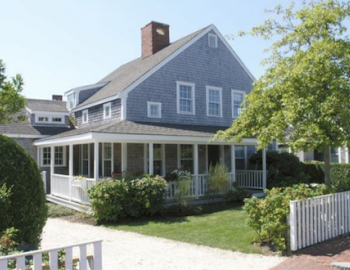 Nashaquisset
This former farm offers a central location with quaint homes in the Nantucket style. Nashaquisset's winding streets evoke the meandering byways of town, complete with inviting sidewalks and cozy cul-de-sacs. Homes are set in an out of the way arrangement, offering privacy with easy accessibility. Conveniently located to schools, shopping, and recreation, Nashaquisset is on the bike path to Surfside and is minutes away from Miacomet Golf Course, Hummock Pond, and town. On-site amenities include a pool and tennis court..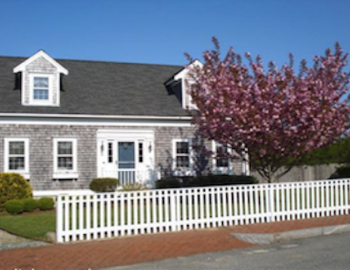 Naushop
This settlement near the airport offers first-class living within a vibrant, but quiet, neighborhood. White-picket fences front appealing island homes, as brick sidewalks meander along graceful streets. The atmosphere conjures simpler times, of playing under a streetlight on a traffic-free street. No need to play in the street, however, as tennis courts a pool, and playground are all here. A bicycle path that connects to town, 'Sconset, and Madaket runs right by, as does the island's convenient public transportation system. Minutes from Surfside and town, with shopping and restaurants nearby.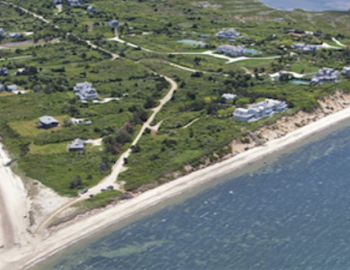 Pocomo
On a high rise of land looking back across the harbor towards Town sits Pocomo, an inviting retreat off the road to Wauwinet. Aptly named by the Wampanoags as "a round fishing place," Pocomo faces the shellfish-friendly waters of the upper harbor on two sides. With most homes located away from the road, and down long, private driveways, this is an ideal location for restful walks on isolated beaches, or for watching sailboarders skim by. Rural, remote, and relaxed, Pocomo is distinctly Nantucket, a perfect, and luxurious, getaway spot for a family friendly clambake or a romantic dinner at the nearby Wauwinet Inn.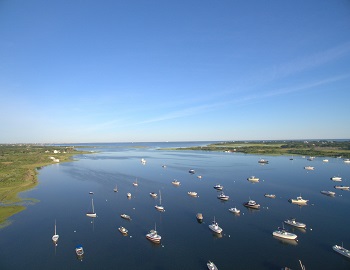 Polpis
Being in Polpis means being in the midst of hidden forests, moorland splendor, and winding country roads.The rural character of Polpis speaks to its proud farming past - working cranberry bogs keep agrarian traditions alive. Protected Polpis Harbor is a haven for sailing, or quiet contemplation, as sunlight dapples calm waters where herons and egrets take refuge. Its picturesque, rustic qualities have made Polpis a favored spot for artists for centuries, and its idyllic charms are everpresent still. A gently meandering bicycle path originating at the entrance to Polpis Road culminates in 'Sconset. A wonderful address, be it seasonal or year-round.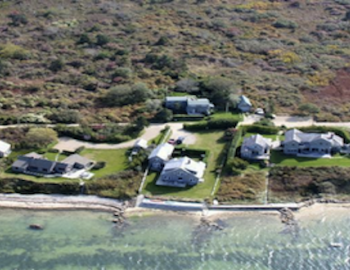 Quaise
This charming section of the island retains the atmosphere of its rural past, while embracing its pedigree as a summer retreat. Here, the upper harbor offers sweet solace as you gaze upon unspoiled Coatue and the nearby Pocomo cliffs. The bucolic and private setting brings visions of summers past, while it's unique atmosphere urges you to create memories of your own. A quiet, cozy outpost so near to town, and yet so far away, Quaise combines pristine ocean views with hidden moorland pleasures.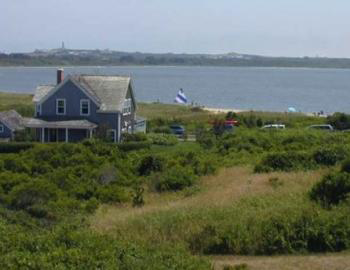 Quidnet
By the shores of Sesachacha Pond, this sheltered and graceful settlement evokes lawn chairs, croquet, and quiet contemplation as summer gracefully unfolds. Blissfully serene, Quidnet has a distinct character that is typified by its proximity to both pond and ocean. Indeed, it's no problem to sunbathe at Sesachacha only to skip over the dune to immerse yourself in the invigorating ocean waters close by. On the horizon, the stalwart and iconic Sankaty Head Light is a calming presence, its reassuring beacon welcoming you home.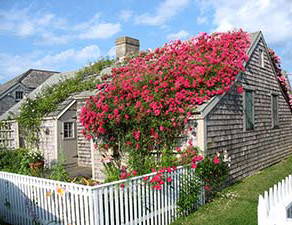 Sconset
If any part of the island has retained a singular presence for decades, this is it. With graceful summer homes fronting its grass-lined Main Street, inviting rose-covered cottages huddled along winding lanes, and timeless "stick-style" houses tucked behind manicured privet hedges, 'Sconset still looks much the same as it did in the 1920s and '30s. Indeed, during the Daffodil Day picnic in April, when over one hundred classic cars park in the village to celebrate spring, the scene is truly Gatsby-esque. Some residents never leave the village in summer, and there's truly no need: 'Sconset has its own market, caterer, several high caliber restaurants, and post office (with its own zip code). Three of the island's golf courses are here, including the magnificent Sankaty Head Golf Club, with the namesake lighthouse looming large over the links. The historic 'Sconset Casino, home of clay-court tennis, began staging theatrical productions in 1900, when 'Sconset was in full swing as an actors' colony. If you could walk into a fairy tale on Nantucket, it would probably be in 'Sconset.
Shawkemo
Quiet and rural Shawkemo is located on the Northern coastline of Nantucket overlooking the inner harbor. Large parcels of land are home to many luxury homes and offer many high elevations to capture the gorgeous views of the inner harbor and Coatue. Shawkemo is known for quiet surroundings, natural beauty, estate parcels, and a classic peaceful Nantucket lifestyle. Access to the island's downtown area, restaurants, harbor, shopping, attractions, and beaches is as easy as a short car ride or a trip on Nantucket's shuttle service.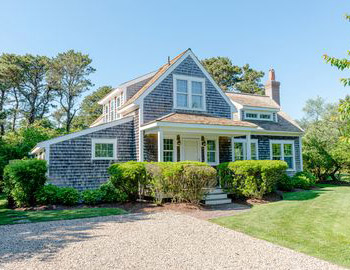 Shimmo
Located in a rural area just 2.5 miles from Town, Shimmo is a quiet and relaxing area boasting pure Nantucket beauty. The coastline overlooks Nantucket Harbor and homes in the higher elevations are treated to panoramic views of the harbor, Coatue, and the Great Point Lighthouse in the distance. Almost all the homeowners in Shimmo enjoy deeded access to the water. Shimmo's large lots offer privacy in a setting of expansive natural beauty. Residents or vacationers can relax and enjoy the quietude of rural Nantucket away from the summertime hustle and bustle of downtown. The island's attractions are still very easily accessible by car, boat & Nantucket's shuttle system.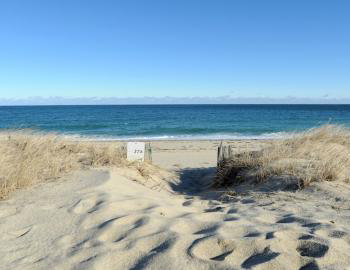 Squam
Nestled between the villages of Wauwinet and Quidnet, Squam features rare forests and grasslands, vernal pools and dramatic ocean views. The bounty and variety of Nantucket's natural landscape defines Squam, a protected gem that fronts the Atlantic, yet is backed by over 700 acres of unique conservation land. In Squam, you truly can have it all, as winding dirt roads lead to exquisite properties with breathtaking surroundings. Long stretches of pristine private beaches complete the setting.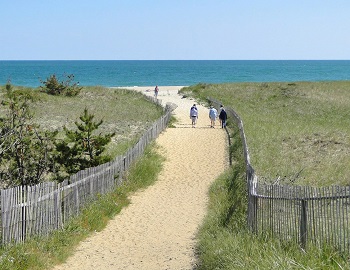 Surfside
Surfside is a charming, one-of-a-kind community, featuring wide expanses of sandy beach and timeless cottages overlooking the sea. A preferred address for its relaxed atmosphere and proximity to mid-island, the airport, and island ferries, Surfside has long been prized as a summer retreat. Here, wild blueberries hide among native pines, and stories of Nantucket's heroic past are whispered by the wind. The fabled Nantucket Railroad once stopped here, and the only surviving on-island Life-Saving Station (the forerunner of today's Coast Guard) lives on as Star of the Sea hostel. Regular service to and from town is provided by the island shuttle, "the Wave," which stops near a popular summer snack bar. The bike path provides easy access to the beach.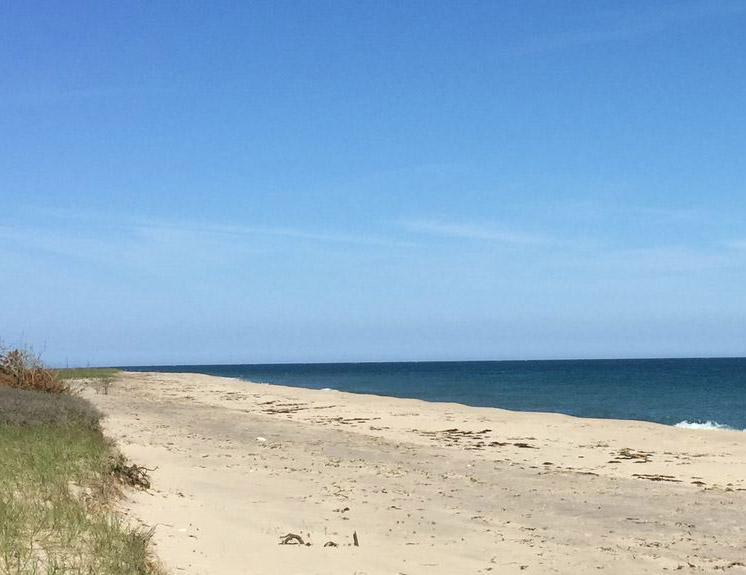 Tom Nevers
It is said that Native American Tom Nevers searched for whales from a high cliff overlooking the south shore and nearby east end on this beautifully rustic section of the island. From rolling expanses of open space to pitch pine and scrub oak barrens, Tom Nevers maintains the dual distinction of being remote yet readily accessible to the island's charms. Just off the Milestone Road, the ocean is never far from any residence in this quiet corner of the island. Options for island living are varied, from grand oceanfront properties to secluded cottages on country lanes. The storied village of 'Sconset is just down the road, with the public Siasconset Golf Course (established in 1894 and one of the oldest courses in the country) along the way. Just across Milestone Road is the Windswept Cranberry Bog, at one time the largest single bog in the world, and now the site of the island's annual Cranberry Festival.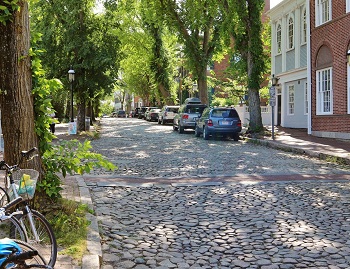 Town
Nantucket's downtown features world class dining, charming boutiques, art galleries, inns, museums and historic sites right in the midst of the hustle and bustle of downtown Nantucket. Historic homes on cobblestone streets hearken back to the whaling era. The ferry terminals and the Nantucket Boat Basin offer easy access to Nantucket for day visitors. Most destinations can be reached by foot, making Town the most convenient part of the island to live or rent. Groceries, shops, restaurants, and the harbor are right at your fingertips while beaches, golf, the airport, and the island's inland beauty can be easily reached by car or by "The Wave", Nantucket's shuttle system.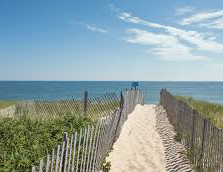 Wauwinet
Nestled between the harbor and the Atlantic, Wauwinet embodies seaside living with a recognizable nod to the island's farming past. Still bearing the name of a Wampanoag sachem, this is a faraway point on the Faraway Island where shore meets sand to create a distinctive summer retreat. There's upper harbor sailing or boating, or simple relaxation on private expanses of beach. The world-class Wauwinet Inn offers fine dining, spa services, exquisite rooms, and boat service to town for their guests and diners. Wauwinet is also the gateway to Great Point, the graceful peninsula that forms Nantucket's northernmost tip, and home to Great Point Light. Great Point remains forever wild under the protection of the Nantucket Conservation Foundation and the state's Trustees of Reservations. An excursion along this ever-changing and unspoiled landscape, by boat or via four-wheel drive vehicle, is an escape like no other on the island.